Advertise in one of the most trusted media outlets in Michigan

Reaching out the fastest growing market in the U.S.
At Farándula Magazine, we pride ourselves on being the foremost authority in the Hispanic community, providing you with an unparalleled guide to all that Michigan has to offer. With world-class photography and captivating storytelling, we aim to be your compass, directing you towards the finest in dining, entertainment, arts, culture, fashion, celebrity news, and so much more.
Explore the Best of Michigan
Our mission is simple: to introduce Latinos to Michigan's culture and delve deep into the topics that resonate most with our readers. From the latest in entertainment to the vibrant arts and culture scene, from the ins and outs of business and law to the rhythm of the local music scene, and from the trends in fashion to the most delectable food and drinks around, Farándula Magazine has it all covered.
Celebrating the Heart of Michigan
We are passionate about chronicling and celebrating this wonderful and vibrant state that we all cherish. Michigan's rich Latino culture deserves recognition and a spotlight, and we are dedicated to bringing it to you with authenticity and excitement.
Our Topics:
Entertainment: Stay in the know about the hottest events, shows, and entertainment news in the Latino community.
Art & Culture: Discover the artistry and creativity that thrive in Michigan's diverse cultural landscape.
Music: Explore the local music scene, from emerging artists to established stars.
Fashion: Find out about the latest trends and styles, and get inspired by our fashion coverage.
Food & Drinks: Savor the flavors of Michigan with our dining recommendations and beverage highlights.
Family Life: Connect with stories and advice that matter most to you and your loved ones.
Our Audience:
Farándula Magazine connects advertising partners with a highly coveted audience through a dynamic multimedia platform that delivers results. Our readers are young, active, and always in the know. They seek the latest information on what's happening, where to go, and what new experiences to try out. When you advertise with us, you reach an engaged and eager audience ready to explore the best that Michigan's Latino community has to offer.
Join us in celebrating Michigan's Latino culture and become a part of Farándula Magazine's vibrant community today. Let us help you connect with our readers and showcase your brand to an audience that's as passionate as we are about all things Michigan.
Our social media influence reaches to over 100k of the
most culturally active people in West Michigan every month.
FOLLOW US 
Facebook | Instagram | Twitter | TikTok | YouTube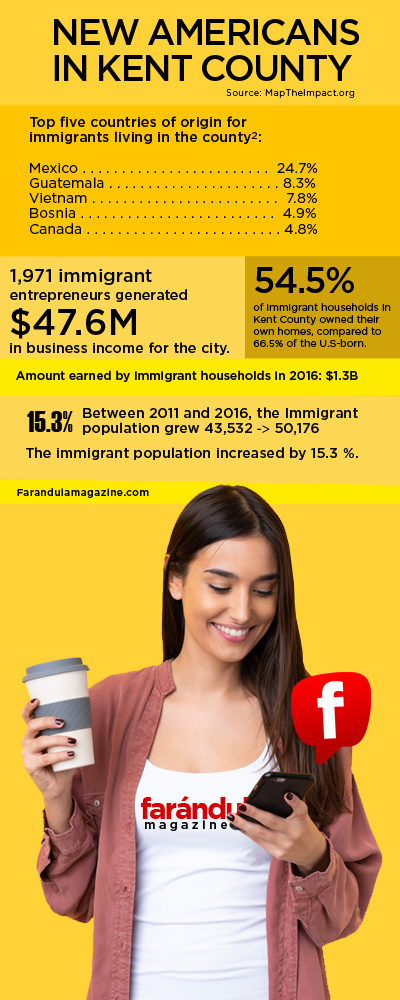 OUR REACH
Adrian | Allegan | Allendale | Battle Creek | Caledonia | Cascade | Cedar Springs | Chicago | Comstock Park | Detroit | Dorr | Ecorse |    Fennville | Forest Hills/Ada | Glenn | Grand Haven | Grandville | Grand Rapids | Holland | Hudsonville | Kalamazoo | Kentwood |  Lansing | Lincoln Park | Ludington | Melvindale| Muskegon | Muskegon Heights | Plainfield | Pontiac| Portage | Rockford | Saugatuck | Sturgis | South Haven | Spring Lake | Walker | West Olive | Wyoming | Zeeland
CONTACT US
Farándula! magazine
P.O Box 118
Byron Center, MI 49315
Phone: (616) 516-7891
---
Michigan Latinos
Latinos in Michigan | Latinos in Grand Rapids, Michigan | Latinos in Greater Grand Rapids, Michigan | Latinos in Holland, Michigan | Latinos in Kalamazoo, Michigan | Latinos in Battle Creek, Michigan | Latinos in Muskegon, Michigan | Michigan Latinos | Latinos in Pontiac, Michigan | Latinos in Sturgis, Michigan | Latinos is Wyoming, Michigan | Latinos in Kentwood, Michigan | Latinos in Byron Center, Michigan