FarándulaMag! is a must-read among the city's most discerning, fun, and stylish audiences. Offering a unique, behind-the-scenes perspective on  lifestyles and entertainment scene in West Michigan. We believe in turning an everyday and overlooked content into a purposeful, inspiring, fun and educative item that goes viral in support of our clients' marketing objectives. We also pride ourselves in producing branded content, more engaged users, shares, and complete social media actions.
We believe FarándulaMag! will be an excellent fit for your sales objectives.
[Our Vision]
We want to play a small role in helping the community grow, by producing great content filled with news, articles about lifestyle, health, fitness, entertainment and special events that take place every day.
[Our Mission]
To provide information that captivates, educates and motivates our readers. To grow with each issue and attain new levels of excellence. To produce content that exemplifies a high standard of qualitative living. And, as we grow, to establish long–lasting partnerships with our advertisers and readers.
FarándulaMag! continues to prosper, and the result is an upbeat, positive friend's take on a society we love to cover.
[Our Objectives]
To publish a credible and influential magazine
Our Reach…
Grand Rapids
Holland
Kalamazoo
Muskegon
Battle Creek
Otsego
Allegan
Byron Center
Kentwood
Grandville
Wyoming
Gaines Township
Caledonia
Lowell
---
Sign up to receive our exclusive insights into what this luminous city has to offer.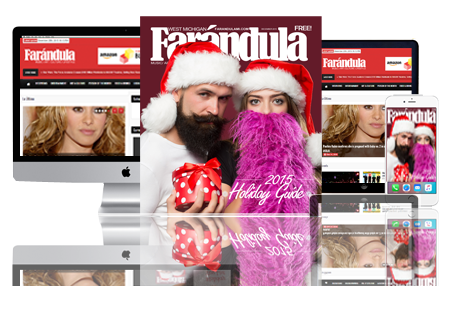 Subscribe and receive in your email the latest events, and happenings in West Michigan – Click here to subscribe
---
Farándula! West Michigan
P.O BOX 118
Byron Center, MI
P: 616.516.7891
[formidable id="2″ title="1″]